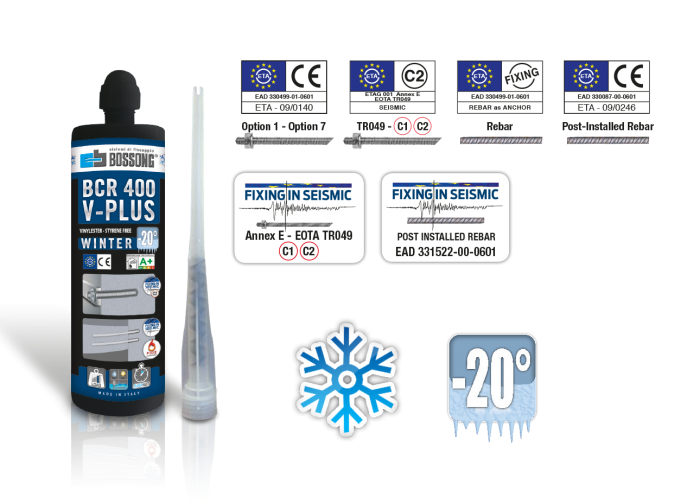 BI-COMPONENT VINYLESTER STYRENE FREE CHEMICAL ANCHOR FOR STRUCTURAL/HIGH LOADS, CE MARKED AND ETA ASSESSED FOR USE IN CONCRETE.
Special formulation for application in winter season up to -20°C of ambient temperature. Fast curing time for low temperature.
ETA (European Technical Assessments) updated according to the Construction Product Regulation 305/2011.
ETA-09/0140: Assessment according to EAD-330499 for uncracked concrete, Option 7, for diameters from M8 to M30 and for rebars from 8 mm to 32 mm. Performace for cracked concrete, Option 1, with rod M10-M12-M16-M20.
Seismic qualification according to EOTA Technical Report TR049. The product is qualified in seismic category C1 for diameters M12-M16-M20 and seismic category C2 for diameters M12-M16. The product is homologated for fixings with a variable anchorage depth, to give the designer a high degree of flexibility. Maximum anchoring depth up to twenty times the nominal diameter of the threaded rod.
Certified service temperatures are in the ranges: -40°C/+40°C (T° max long period = +24°C) ,-40°C/+80°C (T° max long period = +50°C) and -40°C/+120°C (T° max long period = +72°C).
ETA-09/0246: Assessment according to EAD-330087 for post-installed rebar connections in reinforced concrete for diameters from 8 mm to 32 mm. Minimum anchorage depth according to Eurocode 2 in case of uncracked and cracked concrete. Fire resistance, up to a maximum of R240. Assessment for seismic condition according to the EAD 331522 for diameters from 12 mm to 32 mm.
Certified service temperatures are in the range: -40°C/+80°C (T° max long period = +50°C). Concrete category Cl 0,4 max.
Possibility of installing the anchor using hollow drill bits. This installation mode avoids the dust removal procedure by means of a blower pump and a metal brush, and thus significantly reduces the installation time. Possibility to use the product in dry, wet concrete and with flooded hole (flooded hole only with threaded bars).
Base material temperature (concrete, bricks, etc…) for installation between -20°C and +40°C.
Suitable also for base material like solid and hollow masonry, wood.
VOC according to the French Decree 2011-321 and according to the standard ISO 16000/EN 16516.